Lake Wolfgang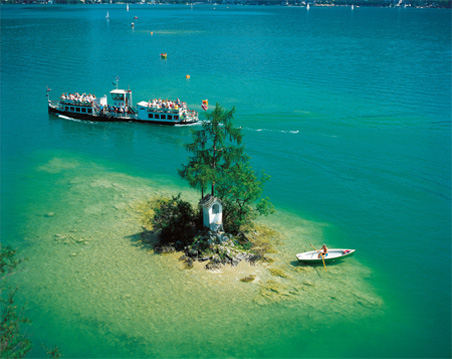 The 11 kilometers long and up to two and a half kilometers wide lake is located on the northern border of the Alps at 539 meters above sea level. The lake is up to 114 meters deep and covers an area of 13,5 square-kilometers. In the middle of the lake the outwash plain of the river Zinkenbach narrows the lake drastically and separates it quite obviously into two halfs. The much visited lake is commonly known as Lake Wolfgangsee, but for locals also known as Lake Abersee which referes to the northern part of the lake.

Here you can see two Panorama photographs of Lake Wolfgangsee taken from the top of mountain Sparber and mountain Zwölferhorn. One shot was edited so it shows the routes of the Wolfgangseeschifffahrt ships as well as of the mountain Schafberg train.

Please get you own impressions of lake Wolfgangsee by enjoying our photos and impression shots of the topics "Enjoy and Relax", "Active and Events" as well as "Ships"!
Lake Wolfgangsee invites you to relax and enjoy the crystal clear water and nature on, around and in the lake. Walk or hike along the lake shore to neighbouring towns, dive into one of the cleanest and warmest lakes of Austria and enjoy amazing sunsets at one of the various lake patios, lake cafes and beaches.
Lake Wolfgangsee offers many possibilities to be active during your vacation. Around the lake, all kinds of water sports like Sailing, Wind-Surfing, Waterski, Wakeboard, Kite-Surfing, Diving etc. are offered. During the summer months, various world-class events such as the Scalaria Air-Challenge, Red Bull Cliff Diving, weekly Waterski-Shows and much more take place.
On lake Wolfgangsee, six ships of the Wolfgangseeschifffahrt cruise several times every day between the seven ship docs around the lake. (see Topic Wolfgangseeschifffahrt"). The ships offer you a relaxed and unique way to travel the lake and the neighbouring towns of St.Wolfgang.


For detailed information about Sport and Activity Providers as well as sport and leisure time activities see "Sport und Freizeit"!